Keri drove me down to pick up the SE this afternoon. We hopped in her Porsche 911 Carrera 4.
It was a smooth ride down do Huntington Beach.
All in all, it took about 40 minutes to get to
Shoreline Motoring.
Once again, Paul and RC and the
whole team at Shoreline did a stellar job
. The tint, the clear bra, the smoked lenses, the electroics... All top notch. Just amazing.
The "thing de resistance"? Check it: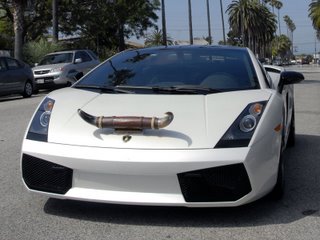 Los Matadors in full effect!
Check more shots of the car in our Flickr Gallery