Today was registration. I rolled in with Rob Ferretti around 10:30 and things went very smoothly.
We got a TON of great swag including some fantastic stuff from
Royal Purple.
After registration, I went back to the warehouse to get some last minute work done on the Audi: tints, a ding removal, tire-pressure monitor reset and an alignment. As we were heading back to the apartment to pack, the heavens opened: Another deluge.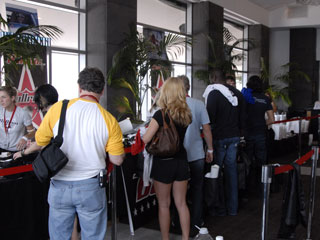 Finally packed and after missing the driver's meeting... cars are parked, decals are applied, and we're out at Marquee.
Marquee was a blast as always. Rory was rarin' to go and the Spike team... it was good to see them. Seems like all anyone could talk about was 'Blade'.
The kicker? We need to be in Times Square tomorrow morning at 8:00 am...
Ouch.